Hipther Collaborates with Expodia for Innovative Digital EXPO 2023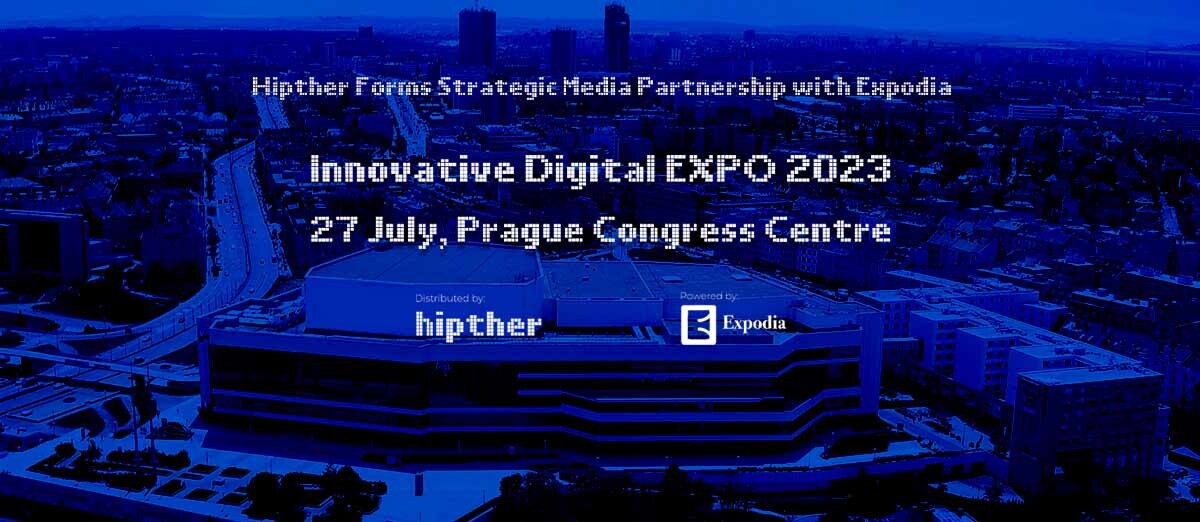 LISTEN TO THIS ARTICLE:
Hipther Agency and Expodia have formed a strategic media partnership for the Innovative Digital EXPO 2023, scheduled to take place on July 27th at the Prague Congress Centre. This collaboration aims to promote the dynamic events ecosystem in Prague, bringing together industry leaders, visionaries, and passionate individuals to drive meaningful change in the digital landscape.
The Innovative Digital EXPO 2023, organized by Expodia, is expected to host over 70 exhibitors and attract more than 1500 visitors from across Europe. Held at the state-of-the-art Prague Congress Centre, this event provides a vibrant platform for companies to showcase their offerings and contribute to the growth of the digital industry.
Expodia offers a comprehensive exhibition solution that maximizes company exposure. In addition to providing ready-made exhibition spots, they offer companies the opportunity to record keynote presentations in cutting-edge digital studios equipped with green screens, cameras, lights, production teams, and makeup artists. These presentations will be streamed live on the Digital Stage of Expodia, reaching a global audience.
To enhance the pre-event experience, Expodia's website will feature insightful interviews with exhibiting companies, introducing them to visitors in three languages: German, English, and Czech. This ensures that each company has the opportunity to reach both the local market and broader English-speaking audiences.
Attendees of the Innovative Digital EXPO can effortlessly switch between the Main Stage and the four studios of the Digital Stage using the Expodia App. This seamless experience enables participants to stay connected and engaged with all the happenings at the event.
Keynote Speakers and Special Performance
The event boasts a star-studded lineup of top keynote speakers who will discuss various aspects of digital innovation. Hosting these sessions is Ruth Hoffmann, an experienced professional TV host from Germany, who will guide the audience through insightful discussions and thought-provoking presentations.
In addition to the exciting lineup of speakers, attendees can look forward to a special act by Lior Suchard, the world's best master mentalist. Known for his mind-reading and hypnotism skills, Suchard's performance promises to be a captivating experience. Furthermore, all Innovative Digital EXPO 2023 exhibitors will receive free tickets to this special show, to be held in November.
Expodia's suite of digital solutions offers companies the opportunity to optimize resource management and gain maximum exposure at a minimal cost. By empowering modern digital industries and unlocking new business growth possibilities, Expodia is at the forefront of driving the future of events.
Hipther Agency's support of the Innovative Digital EXPO 2023, powered by Expodia, further strengthens its commitment to innovation and Prague's thriving business networking scene.
We couldn't be more excited to join hands with Expodia for the Innovative Digital EXPO 2023. Our collaboration symbolizes a confluence of synergies, leveraging our collective strengths to elevate Prague's thriving events landscape. Given our robust track record with the Prague Gaming & TECH Summit series, we are confident this strategic media partnership will amplify the reach and resonance of the Innovative Digital EXPO, catalyzing meaningful conversations, fostering unique connections, and reinforcing Prague as the epicenter of digital innovation. The countdown to July 27th has begun!
Armin Khani, CEO of Expodia, also expressed his excitement about the event and the partnership with Hipther.
'm delighted to share the exciting news of our partnership with Hipther as the media partner for the Innovative Digital EXPO 2023. From my perspective, they are the perfect match, bringing their deep industry knowledge and expansive network to the table. Together, we will explore the future of digitalization and innovation, paving the way for transformative advancements across industries. Join us for an incredible journey into the possibilities of tomorrow!
With the countdown to July 27th underway, the Innovative Digital EXPO 2023 promises to be an incredible journey into the possibilities of tomorrow. Attendees can look forward to a dynamic and engaging event that will shape the future of the digital landscape.