Kevin Durant's Wit Shines in Response to Sports Betting Fans' Frustrations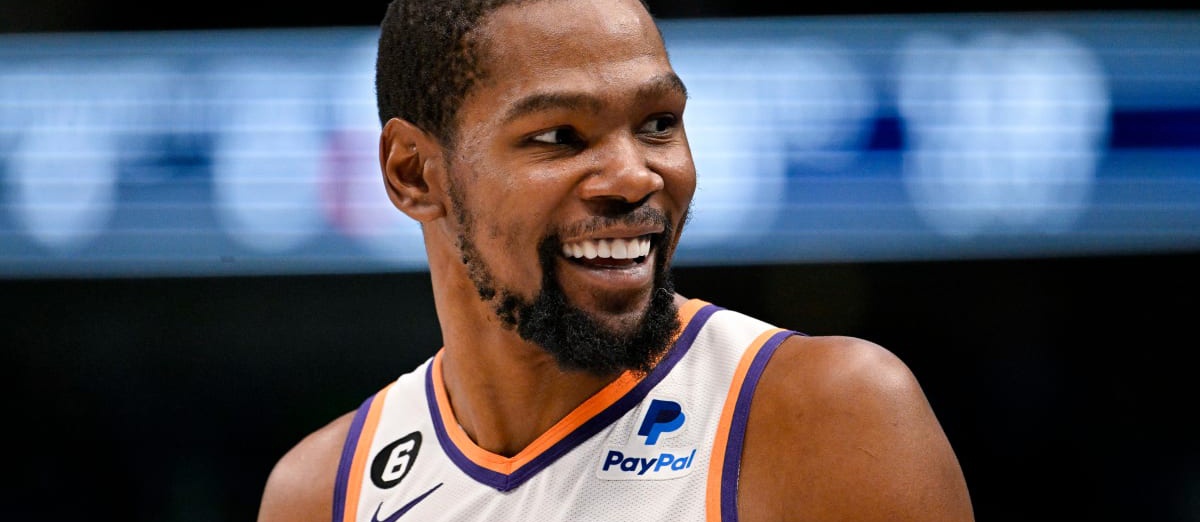 LISTEN TO THIS ARTICLE:
Kevin Durant, the enigmatic superstar of the NBA, has once again displayed his wit and humor on social media, this time with a perfect clapback for fans who express frustration over their gambling losses. Durant, known for his candid online presence, often engages with fans and critics alike, and this latest interaction showcases his characteristically dry sense of humor.
On a recent occasion, one of America's most popular athletes, Kevin Durant had a pertinent critique for fans who take their gambling experiences a bit too seriously. He pointed out that while fans are quick to voice their displeasure when their bets on his point totals fall short, they tend to remain conspicuously quiet when they win parlays featuring him. It's a valid observation, highlighting the sometimes one-sided nature of fan reactions in the realm of sports betting.
However, it's worth noting that Durant's tongue-in-cheek comment could raise eyebrows within the context of the NBA's gambling policies and potentially even legal constraints. Offering kickbacks to fans who won money on a prop bet involving him would likely be problematic. Nevertheless, Durant's comment sheds light on the dynamic between athletes and the fans who bet on their performances.
The Complex Relationship between Athletes and Sports Betting Fans
The relationship between athletes and fans in the realm of sports betting can be a complex one. Fans can become vocal and even critical when their bets don't pan out as expected, often resorting to social media platforms to express their frustrations. However, when their bets are successful, the response tends to be more subdued, with many fans content to bask in the glory of their "smart picks."
Interestingly, Durant is no stranger to the challenges of dealing with fans in the world of sports betting. His new teammate, Bradley Beal, had a rather unpleasant encounter with a fan who allegedly confronted him over $1,300 in gambling losses at a game. Such incidents highlight the thin line between fandom and inappropriate behavior, with some fans going to extremes to express their grievances.
Related: NBA Referee Eric Lewis Bids Farewell amidst Controversy
In light of Durant's playful comment, it raises the question of whether fans should show more appreciation when their prop bets hit. While it may not be common practice to thank athletes for their contributions to a successful bet, it does highlight the symbiotic relationship between fans and the players they wager on.
In conclusion, Kevin Durant's witty response to fans upset about their gambling losses serves as a reminder of the unique dynamics that exist between athletes and their betting supporters. While it's essential to keep interactions respectful and light-hearted, it's also worth acknowledging the role that athletes play in the world of sports betting, even if it's just a playful "thank you" when those prop bets hit the mark.