Super Fun 21 Blackjack by Microgaming
Review of the Rules and Payouts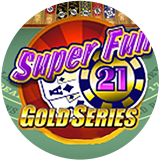 Log in to add it in your Favorites
You may be wondering, what is Super Fun 21 Blackjack, and how does it differ from other games of this type? This is an interesting variant on a classic game from the Microgaming. It gives players a range of possible bonus payouts and has some interesting rules that bring a fresh approach to a timeless card game.
It has been available online for a few years now, but the smart, clean look of the screen means that Super Fun 21 Blackjack remains an attractive option. Here, we will go through a full review of the game and then look at some casinos with Super Fun 21 where you can play for fun or with real money at stake.
RTP

Good

Features

Very Good

Gameplay

Very Good
Rules

American Blackjack

Side Bets

Demo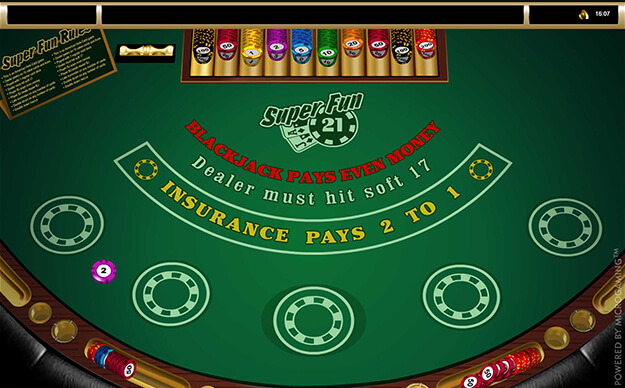 Why Super Fun 21 Blackjack
A Look at the Basic Rules of Super Fun 21
This is a blackjack variant that takes the traditional rules and adds something extra to them. It is described as an American Hole Card game and introduces some features and rules you may not have seen before now. For example, it is played with just one regular deck, and the dealer peeks for blackjack on 10-value card and aces.
The dealer has to hit on soft 17. If you and the dealer both get blackjack, then you win every time. In any case, blackjack always pays out as even money. Late surrender and double down are both available, no matter how many cards you have at the time. Double rescue is also featured, while you can even double down after a split. You split up to 3 times, to make four hands if you want to. Blackjack insurance is offered to you when the dealer's first card is an ace.
Game
Super Fun 21 Blackjack
Developer
Dealer Stands
Hits on soft 17
Bonus Payouts and Special Features
You will see that there are no side bets in this fascinating blackjack game from Microgaming. However, there are plenty of interesting features that you can access anyway. There are some fantastic bonuses that you can pick up on here, regardless of how much you wager.
Diamond Blackjack (Ace and a King of the Diamond Suit) pays 2:1
Five Card or More 21 (combination of five or more cards with a total value of 21) pays 2:1
Six Card or More with a Value of 20 or Less (combination of six or more cards with a total value of 20 or less) pays 1:1
It is important to bear in mind that none of these bonuses applies after you have doubled down.
What Does the Gameplay Cover?
Playing this game is simple, despite the presence of so many interesting rules and bonuses. You can get started just by choosing a stake of anywhere between 1 and 200. You then need to press the 'deal' button and wait for the first cards to be given to you.
Follow the buttons at the bottom of the screen to see what you can do on each turn. Options which are not available are automatically disabled. There is no need to be an expert in this game to understand the Super Fun 21 rules. If you are ever in any doubt, you can quickly access the rules in the top corner. If you want more detailed information then take a look in the pop-up 'help' section. You can also tailor the sound and visual experience to be exactly how you want them to be. Get Started on the Demo Game
If you'd like to try the gameplay mechanics and bonus feature of Super Fun 21, try the game in practice play with demo credits. The demo option for this title lets you get to grips with the gameplay with demo credits, without placing any real money on the table. Just give it a try to see whether it is exactly what you are looking for.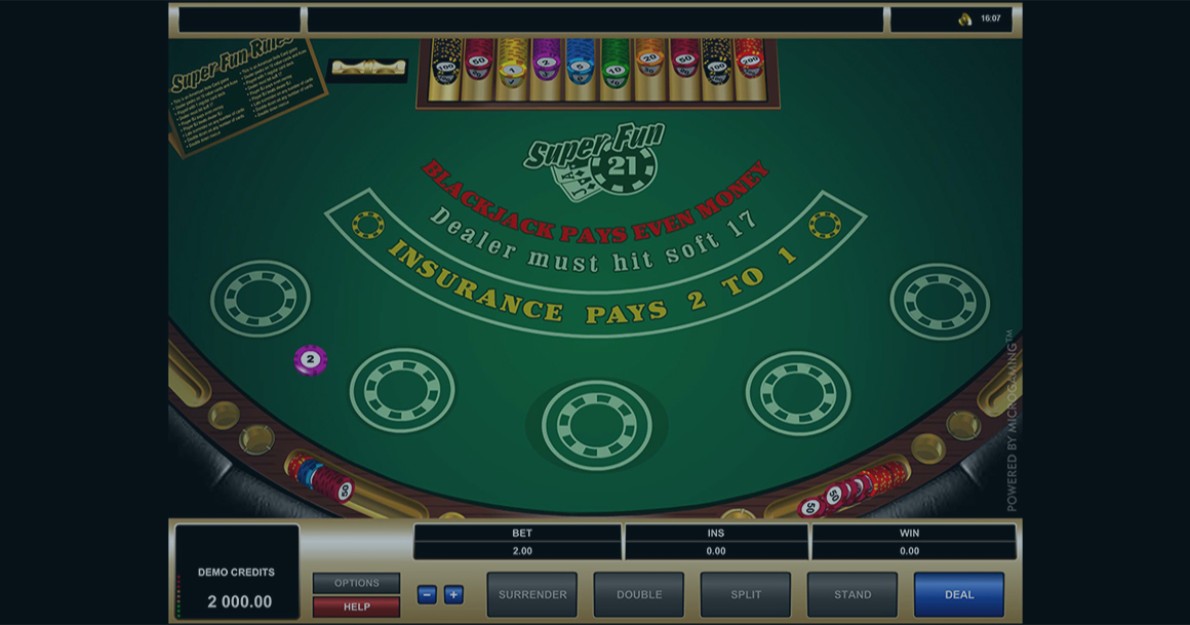 Do You Want to Play This Game for Real Money?
Cashiopeia
Not Accepted
Wazamba
Not Accepted
22Bet
Not Accepted
*18+ T&Cs apply to each offer.
Real-Money Casinos for Super Fun 21 Blackjack
To start playing the game for real money, choose one of the Microgaming casinos we've listed below. Each of them has a dedicated review discussing its aspects like number of games, RTP, payout, licensing, customer care, and more. Before proceeding with a registration, read our casino reviews to see whether players from your region are accepted, and how the casino will match your style of play. You can also take advantage of our comparison option to see which one offers all that you're looking for in an online casino.
Casino
Bonus
Free Spins
Claim Bonus

Cashiopeia

1

NA

Wazamba

2

200

Free Spins

22Bet

3

NA

Casino-X

4

200

Free Spins

1xBet

5

150

Free Spins
*18+ T&Cs apply to each offer. Click "Get Bonus" for more information.
Details of the Super Fun 21 RTP and Payout Potential
Is the Super Fun 21 house edge low enough to make it worth giving a try with real money? An RTP of 99.10% is pretty good, but it does typically pay out a little bit less than other Microgaming blackjack titles. Blackjack pays 1:1 instead of the standard 3:2, and insurance pays 2:1.
To be fair, the presence of all those different bonuses means that there is the chance of picking up some big wins with hands that maybe wouldn't be a success on other variants of this game. The extra bets such as double down and split increase the risk level for you, though.
The amount that you win on any of the bonuses will vary according to the exact bonus that you activate. So, sometimes you will get paid out at 1 to 1 and other times you may get 2 to 1 instead. All of this means that the game tends to be more volatile than others that are similar. If you use the insurance option, then you will see that this volatility increases further.
| Covers | Payout |
| --- | --- |
| Blackjack | 1:1 |
| Winning Hand | 1:1 |
| Insurance | 2:1 |
Super Fun 21 Strategy for Real Money Playing
Expert players will enjoy the big variety of options open to them on here. Being able to do things like double down, split, and surrender lets you choose your strategy more effectively than you can on other online blackjack variants. If you want to feel fully in control of the game then this is a smart option.
Beginners can also play without any fear too. If you want to take a more basic strategy then you can do this easily as well. Just place your stake and choose to hit or stand if you don't yet feel comfortable with the additional options. You might even hit a bonus without really trying.
As with any blackjack variant that you play, keeping control of your bankroll is crucial. Make sure that you are comfortable with the amount that you stake right from the very beginning.
More from Microgaming and Other Providers
Microgaming has long been regarded as one of the most admired producers of online gambling software. They have brought out hundreds of titles of all different types in the last few years. These include slots such as Game of Thrones and roulette titles such as Premier Roulette, as well as several other blackjack versions. You can also look up some blackjack version from other providers to see what features and bonuses they're offering.
Log in to add it in your favorites
Compare

Super Fun 21 Blackjack

to other

games