Caesars Palace Guest Becomes a Millionaire after Winning Three Jackpots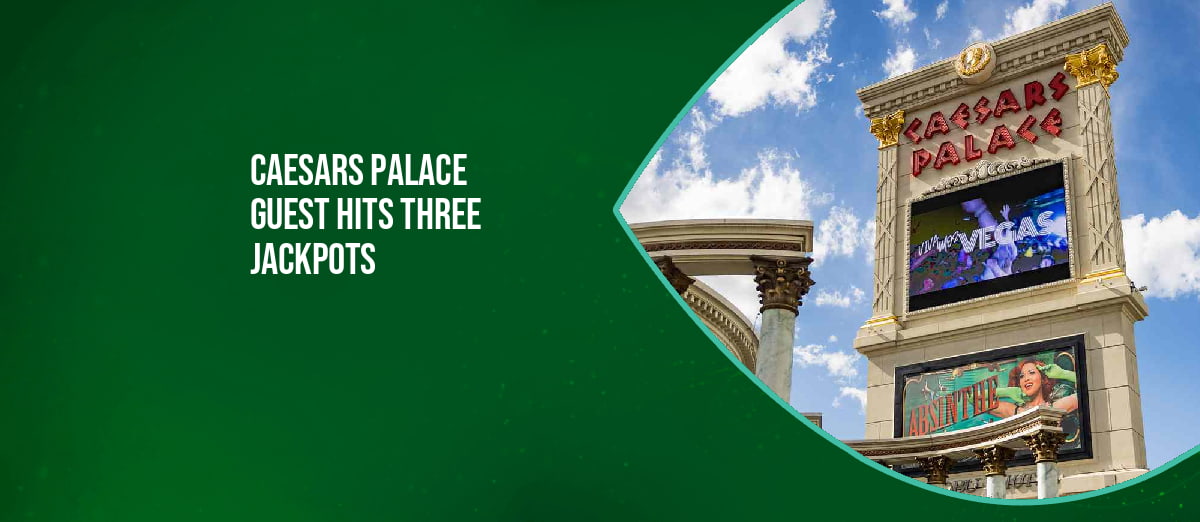 LISTEN TO THIS ARTICLE:
In an extraordinary stroke of luck, a fortunate guest at Caesars Palace recently experienced a life-changing moment when they hit not one, not two, but three jackpots within a span of just 48 hours.
With winnings totaling an astounding $1 million, this remarkable feat has turned an ordinary visit to the renowned Caesars Palace into an unforgettable and thrilling adventure.
The fortunate guest arrived at the iconic casino on a sunny Saturday afternoon, seeking entertainment and excitement. Little did they know that destiny had something extraordinary in store for them. Settling down at a video poker machine, the guest began their gaming session, unknowingly embarking on a remarkable winning streak.
The first stroke of luck struck at precisely 4:42 p.m. As the reels aligned perfectly, the guest's persistence and hopeful anticipation paid off with a jaw-dropping jackpot win of $400,000. The sheer exhilaration of this moment could hardly be contained, but little did they know that the best was yet to come.
Within a mere ten minutes of their initial triumph, lightning struck twice. The guest's lucky stars aligned once again as the reels spun favorably to reward them with a second video poker jackpot, this time amounting to $200,000. The atmosphere surrounding this miraculous occurrence was electrifying, and whispers of amazement filled the air.
Buoyed by their unprecedented success, the guest decided to return to Caesars Palace the following day, eager to test their luck once more. Their faith in fortune would prove to be well-founded, as the third jackpot arrived at precisely 11 p.m. that Sunday evening. The guest achieved another remarkable win, this time worth $400,000. With this third jackpot, their total winnings soared to an awe-inspiring $1 million, marking a milestone that dreams are made of.
Caesars Palace's Reaction and The Magic of Las Vegas
Casino officials at Caesars Palace were astounded by the extraordinary string of luck that had befallen their guest. The management expressed their delight and offered their heartfelt congratulations to the fortunate individual who had undoubtedly achieved a once-in-a-lifetime feat.
This remarkable story of fortune and triumph epitomizes the allure and enchantment that the city of Las Vegas holds. Known as the Entertainment Capital of the World, Las Vegas has always been synonymous with thrilling adventures, unforgettable experiences, and life-changing moments. The city's mesmerizing land-based casinos, like Caesars Palace, stand as temples of chance and opportunity, where dreams can be realized with the pull of a lever or the turn of a card.
Caesars Palace has made history once again as the backdrop to an extraordinary tale of serendipity and life-altering winnings. The fortunate guest's remarkable winning streak, hitting three jackpots in just 48 hours, serves as a testament to the exhilarating and unpredictable nature of casino gaming. As for the guest themselves, their visit to Caesars Palace will forever be etched in their memory as the moment when their luck soared to unimaginable heights, transforming them into an instant millionaire.