Mini Roulette Review – Is Less More?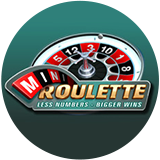 Log in to add it in your Favorites
"Fewer numbers, bigger wins." The motto of Mini Roulette makes it hard to ignore. In the last several years, this RNG Playtech game has become quite popular among players. The title has been crafted for the novice and those who gamble on mobile, as it features a table and wheel with fewer betting zones.
However, does it really give out better payouts, and is it superior to any of the three classic variations? We're aiming to answer all of your questions in our comprehensive new review. Read about the pros and cons, enjoy Mini Roulette in free play mode here, and see the best places to wager with real money.
Why Mini Roulette?
Suitable for Novice Players
The Basics of the Mini Roulette Game
You can regard the title as an abridged iteration of French roulette. Instead of featuring the conventional 37 sockets, the wheel and table of this version have a baker's dozen of slots – 12 black and red ones, with a solitary green one for the "0."
The simplified layout doesn't take away from any of the essential options for wagering. Straight ups, splits, columns, odd/even, and all of the other inside and outside bets are readily available. One of the most interesting aspects of Mini Roulette by Playtech is that it incorporates a "La Partage" rule on steroids. If the ball falls on zero and you haven't covered it, you will receive half of your money back regardless of what bet you've placed.
Developer
Type
European / Single Zero
How to Play Casino Mini Roulette
It won't take you long to become a master at this title, even if you haven't played a single game of chance in your life. To get going, locate the playing chips at the bottom-left and then determine where you'd like to place them. If you hover your mouse above the betting zones, they will be highlighted, and a popup window will show you information about the payouts and min/max wagers.
After you put a stake on the table, press the circular button at the bottom-right corner to spin the wheel. From then, all you can do is cross your fingers and wait for a favorable outcome. The betting limits in online Mini Roulette will differ depending on what operator you've chosen. At Casino.com, they are between €1-€100, but that applies for straight-up bets. If you go for red/black or odd/even, the ceiling rises to €2,000.
Useful Settings to Keep in Mind
Since this is a beginner-friendly release, the amount of advanced options has been intentionally cut down. Still, there are some functionalities that you'll probably want to know about:
Autoplay – Do you want to down some money and let it ride? Hold the "Spin" button to trigger the auto function. It will only work if you have chips on the table.
Audio settings – If you wish, you can play Mini Roulette on mute. At the top-right edge of the screen, you'll find a slider for the volume. Use it as you see fit.
Turbo Mode – When enabled, this mode will cut down on animations for faster game rounds. Click on the cog icon and then "Settings" to toggle it on and off.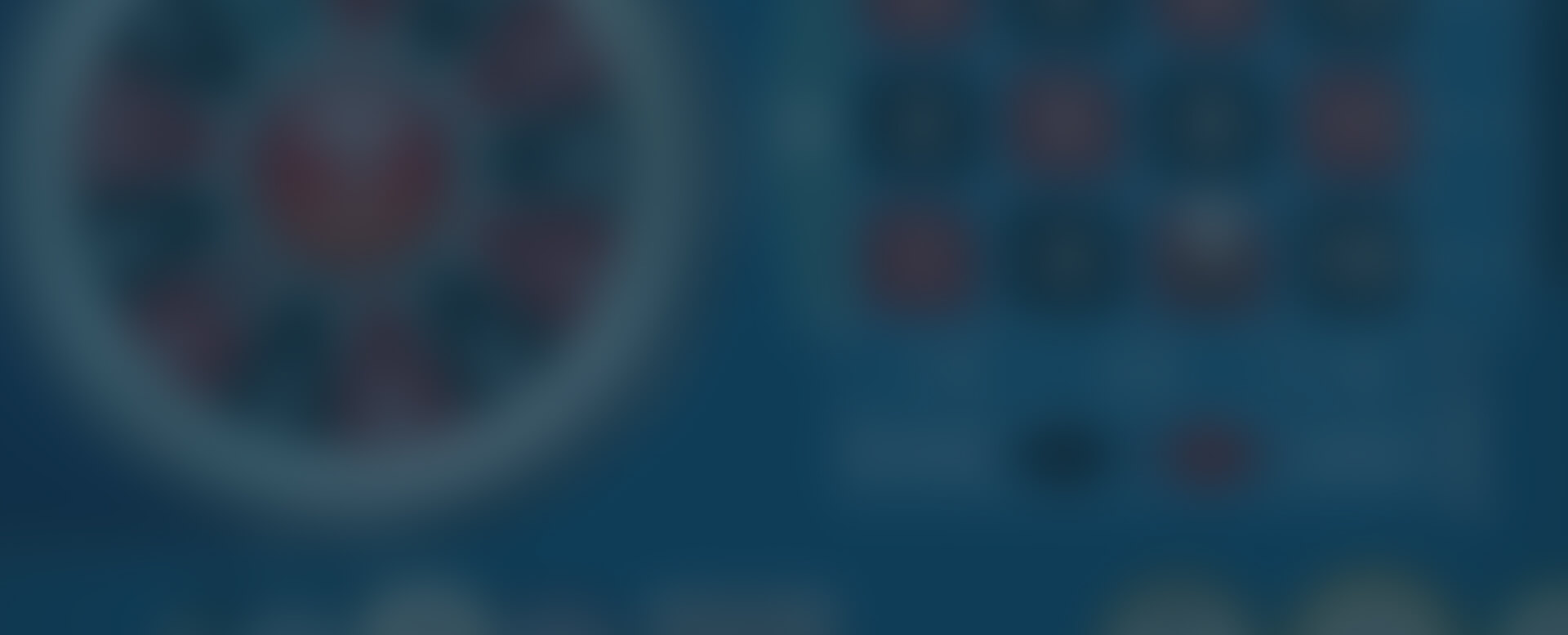 Play Mini Roulette, Free and Online Here
Now that you know the ins and outs of the game in theory, feel free to start practicing using our demo mode. This free Mini Roulette version is available around the clock and requires no downloads on your side.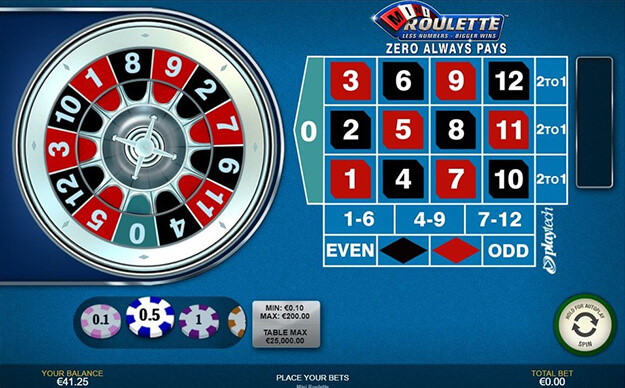 Do You Want to Play This Game for Real Money?
Betfair
Not Accepted
Mansion Casino
Not Accepted
Casino.com
Not Accepted
*18+ T&Cs apply to each offer.
Casino Recommendations for the Real-Money Player
Have you decided to put some skin in the game? Then you'll be happy to know that you can find this and many other Playtech releases at some pretty exceptional online operators. Casino.com and Mansion are powered by the software developer and offer compelling welcome bonuses.
Casino
Bonus
Free Spins
Claim Bonus

Betfair

1

NA

Mansion Casino

2

NA

Casino.com

3

NA
*18+ T&Cs apply to each offer.
Let's Talk about Returns and Payouts
It's time to establish if Playtech's claims of "bigger wins" will hold water. At first glance, the rules of this itsy-bitsy release are even more favorable than those of French roulette. The latter boasts a very alluring 98.65% RTP, so why do we see only 96.15% here?
Well, the fact that there are only 12 red/black numbers on the wheel means that the risk of landing on zero is three times greater. Thus, even with the help of the augmented "La Partage," the expected return of this mini casino roulette game is lower than what you'll get with the Euro and French variants. The American version is the only member of the classic trio that's inferior to the simplified Playtech RNG offering.
Bet Type
Covers
Description
How to Place
Payout
Straight Up

1

Number

A bet on a single number being the winning number.
Click on a number.
11:1
Split

2

Numbers

A bet on two numbers next to each other on the table.
Click between two numbers.
5:1
Street

3

Numbers

A bet on a row of three numbers (e.g. 1, 2, and 3).
Click on the bottom edge of the lowest number in a vertical row.
3:1
Corner

4

Numbers

A bet covering four numbers next to each other on the table.
Click at the corner of four numbers.
2:1
Three

3

Numbers

A bet covering three numbers 0, 1, 2 or 0, 2, 3.
Click between 0 and first row.
3:1
Four

4

Numbers

A bet covering four numbers 0, 1, 2 and 3
Click on the lower end of the boundary line between 0 and the first row.
2:1
Column

4

Numbers

A bet covering an entire horizontal row of four numbers.
Click on one of the areas marked "2 to 1".
2:1
Half Dozen

6

Numbers

A bet covering a group of six numbers (e.g. from 1 to 6).
Click on one of the areas marked "1-6", "4-9" or "7-12".
1:1
Dozen

6

Numbers

A bet covering a group of six numbers (e.g. from 1 to 6).
N/A
N/A
Red

6

Numbers

A bet on the winning number being red.
Click on the area marked with a red diamond
1:1
Black

6

Numbers

A bet on the winning number being black.
Click on the area marked with a black diamond.
1:1
Even

6

Numbers

A bet on the winning number being even.
Click on the area marked with "EVEN".
1:1
Odd

6

Numbers

A bet on the winning number being odd.
Click on the area marked with "ODD".
1:1
The Best Strategy: Play Mini Roulette for Entertainment
There's no life hack that will turn roulette into a money-making machine. It's a game of chance where the mathematical odds are stacked against you. The only power that can overturn the house's advantage is sheer luck on your side, so keep that in mind before you splash the cash.
Coming in terms with the nature of gaming will free you to play the way you want. There's no need to read long articles about progression systems and waste time applying them. You might profit by using the James Bond strategy or reverse Martingale on Mini Roulette sometimes, but there's also a considerable risk of losing a lot of money from a misfortunate session. Be disciplined while playing, rely on your gut feelings, and enjoy the ride.
Other Roulette Variants to Try
When you get the hang of Mini Roulette and are ready to experiment with some exciting 37-variants, make sure to check out "Premium Roulette Pro" and "Superman Roulette." Those who would like to try other genres can read our reviews of Playtech's "Age of the Gods" slot and "Blackjack Peek."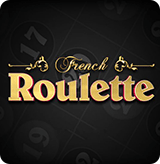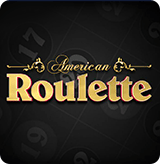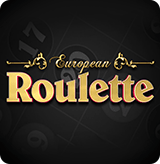 Log in to add it in your favorites
Compare

Mini Roulette

to other

games