Penguin City Slot
A Review of a Hilarious Rescue Operation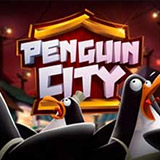 Log in to add it in your Favorites
The online casino industry often comes up with zany games of chance. Yet if there were a contest for the wackiest release, we'd put our money on Yggdrasil's Penguin City slot. As you might suspect, cute flightless birds are the protagonists here, but they're not peacefully chilling in some Arctic metropolis.
Funnily enough, the title refers to a Chinese restaurant chain held by the evil Emperor Penguin. Instead of paying his underlings like a good boss, he has mercilessly enslaved them. As a player, your task is to help the colony escape, and win some cash while you're at it. Our review will help you achieve just that by explaining all the features, providing you with a demo mode, and sharing a list of top real-money casinos.
Checking out the Penguin City Slot Features
The Penguin City online slot isn't brimming with elaborate functionalities, yet there is a bit of genius in its simplicity. Like most modern video slots, the game's layout consists of five moving reels and three rows. However, things get interesting when we take a look at the paylines.
The 243 bet lines are active at all times and work in both directions. Yggdrasil calls this setup "Win all Ways," as you will get paid anytime a string of three or more identical symbols (Wilds included) lands on the reels. The sequence must begin from the first or fifth reels, and the symbols can be positioned consecutively in any order.
While you play the Penguin City slot, you'll notice that a single spin can yield two payouts from a couple of 3- or 4-of-a-kinds. Furthermore, any additional winning token that appears on the columns of a successful combination will add a multiplier to your payout. Refer to the picture below to see how the mechanic works.
Get a Wild Win, Enter a Bonus Mode
The game does feature Wild symbols, but they can only appear on the second and fourth reels. Nonetheless, Wilds aren't a rare sight, and you'll get hyped every time you win with them. Aside from their usual role as a substitute for any normal token, they stick to the reels of the Penguin City slot as long as you maintain a streak. Also, a successful combination including a Wild transports you to a special level called "Penguin Escape".
In it, you're taken to the kitchen of the Chinese restaurant during the breakout of our apron-wearing avian friends. The penguins have hatched a plan that involves jumping on bounce pads in an attempt to flee through the reels. One of them takes the plunge per spin.
If they make it, you get an extra Wild or a regular symbol. Should they fail, they fall into a food packaging machine and become takeout. Poor fellas. This special mode makes the Penguin City online slot thrilling, as it continues as long as you keep winning. Do note that this isn't a "free spins" level, so you will be charged for playing.
"Stacked Emperor Wild" is the last feature of the bonanza stage. The game's villain can appear on reel 3 to occupy it entirely. If that happens, a win is guaranteed. The symbol moves down one reel position per spin and eventually disappears.
Slot Profile
Name -

Penguin City

Release year -

2018

Type -

Video Slot

Supported Platforms:
Provider

Rows

3

Reels

5
RTP

Free Spins

Paylines
Adjustable paylines:

No

Themes:

Wildlife / Animals

Min/Max Bet:

0.1 - 125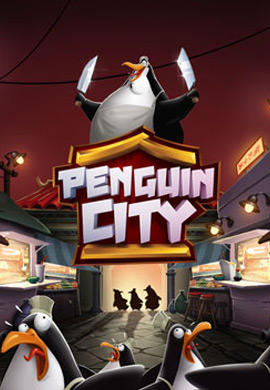 An Audio-Visual Masterpiece from Yggdrasil Gaming
Yggdrasil Gaming produces premium slots, and this one is no exception. Expectations are set high right from the get-go through a short 3D intro. In it, a penguin is waddling on a treadmill of death, desperately trying to avoid the mouth of a takeaway packaging machine. This Penguin City slot clip reminds us of the "Madagascar" movies and matches them in terms of quality.
Following the wacky prelude, we get to see the main game screen. Players are instantly dipped into the atmosphere of a busy Oriental market. In the background, one can notice shops and curious penguins bustling under the swinging red lanterns. The plethora of lovely animations makes the game come alive.
The Penguin City Chinese restaurant sits smack in the middle of it all and hosts the reels. In full stereotypical glory, chopsticks, steaming stews, and even cockroaches can be spotted on its messy counter.
In Penguin City, slot symbols with high payouts are shaped like food or condiments, while their low-status counterparts take the form of playing card suits. The soundtrack is mostly relaxing, but it does pick up once you enter the "Penguin Escape" mode.
A Beginner's Guide on How to Play the Penguin City Slot
Yggdrasil slots are easy to enjoy, even if you're not tech-savvy and completely new to gaming. The entire area of interaction can be located at the bottom of the screen. You could press the big circle in the middle to start spinning immediately, but before you do, you might want to adjust your bets. In the Penguin City online slot, this is done by adjusting golden buttons below "Coin Value." Our advice section can help you come up with a good wagering strategy.
You could either press "Space" or click on the central circular icon to spin. If you don't want to bother doing that every few seconds, use the "Autoplay" button to its right. We suggest forgetting about "Max Bet," as it will automatically increase your wager to €125. Additional audio, video, and game settings plus detailed information about every feature can be found from expanding the purple "+" at the bottom-left.
Remember! Penguin City slot winnings and jackpots are formed by multiplying your bet a set number of times. Thus, the size of your stakes directly affects potential payouts and losses.
Yes, Replaces all symbols, Triggers Bonus Mode
Wild
Penguin Escape Mode, Stacked Emperor Wild, Sticky Wilds
Special features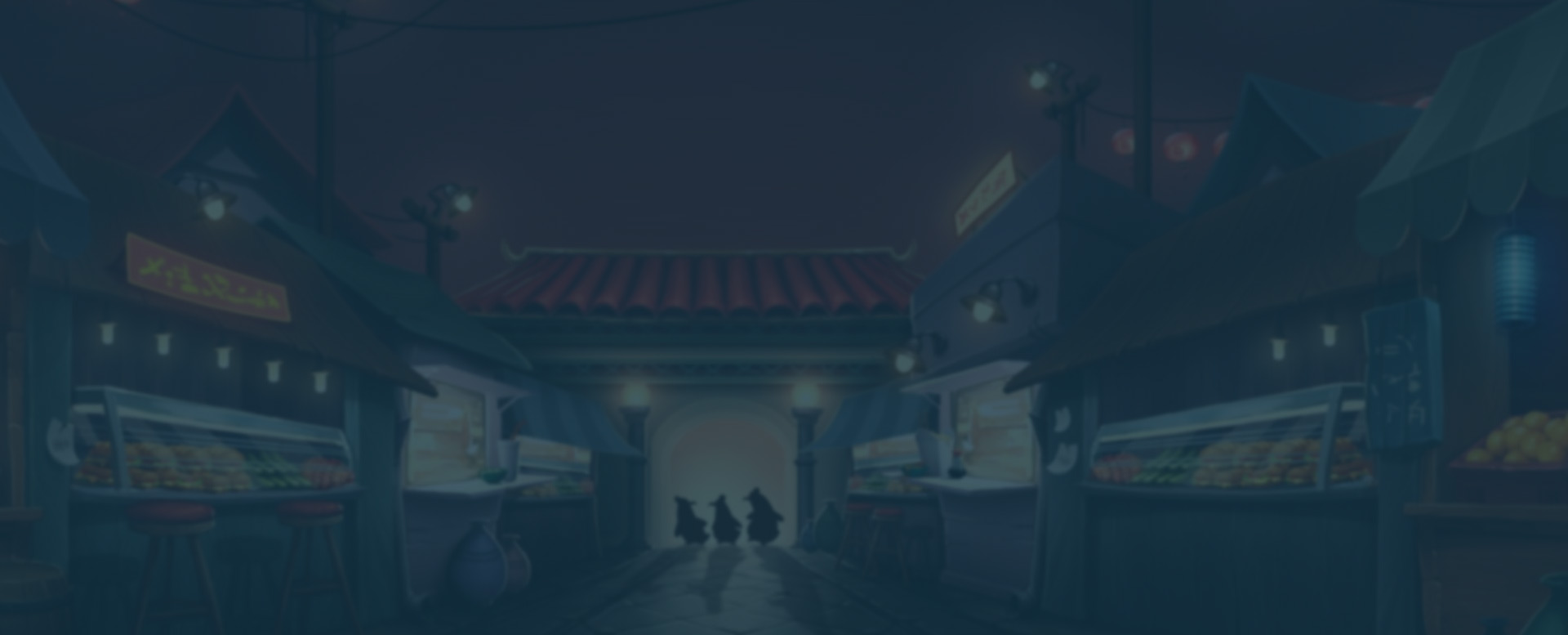 Penguin City Slot Demo: Play with No Financial Risks
We've briefed you about the plight of the penguins, and now it's time to help them escape that cockroach-ridden hellhole. Our website has a demo mode available for you 24/7. Use it to test the game, its features, and betting strategies without having to risk a dime or download any software.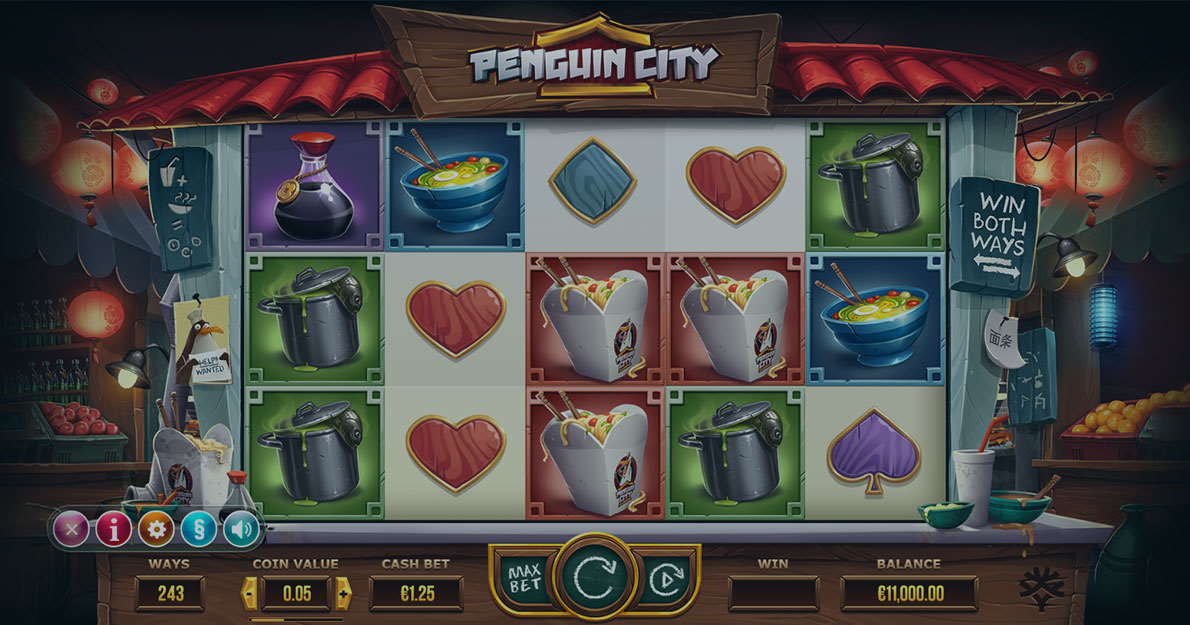 Do You Want to Play This Game for Real Money?
Wazamba
Not Accepted
Casumo
Not Accepted
888 Casino
Not Accepted
*18+ T&Cs apply to each offer.
Don't Let Cash Slip Away! Start with a Tasty Bonus
If fighting for the feathery cause has invited Lady Luck on your side, you could see if her kindness will extend to the real-money mode as well. The list below includes five top online casinos. All of them are licensed, safe, and have the Penguin City slot in their portfolios. Furthermore, each member of this quintet boasts attractive bonuses for new players.
Casino
Bonus
Free Spins
Claim Bonus

Wazamba

1

200

Free Spins

Casumo

2

20

Free Spins

888 Casino

3

NA

PlayOJO

4

Up to

50

Free Spins

SlotsMagic

5

50

Free Spins
*18+ T&Cs apply to each offer.
Penguin City Slot RTP, Hit Rate, and Jackpot
To discover the true nature of this title, we need to take a look at the numbers. The developer's site tells us that the Penguin City slot RTP stands at 96.2%, but what does that mean? Over the long run (think millions of game rounds), you're expected to lose a little less than 4% of the money you've invested. What happens in the more immediate future is entirely up to luck — you could turn a profit or lose even more.
On average, about one in four spins should yield a payout, which is quite high for the genre. When we combine this knowledge with the relatively skimpy top-symbol payouts, it's easy to see we're dealing with a low-volatility/risk slot. The jackpot is worth x1,647 your bet, meaning that you could win a maximum of €197,640 with a €120 wager.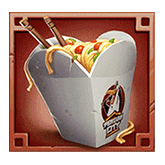 2 Symbols

-

3 Symbols

-

4 Symbols

-

5 Symbols

-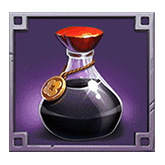 2 Symbols

-

3 Symbols

-

4 Symbols

-

5 Symbols

-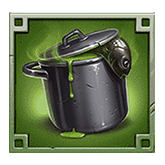 2 Symbols

-

3 Symbols

-

4 Symbols

-

5 Symbols

-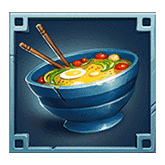 2 Symbols

-

3 Symbols

-

4 Symbols

-

5 Symbols

-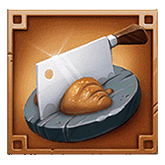 2 Symbols

-

3 Symbols

-

4 Symbols

-

5 Symbols

-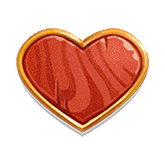 2 Symbols

-

3 Symbols

-

4 Symbols

-

5 Symbols

-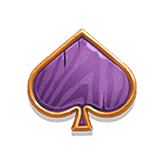 2 Symbols

-

3 Symbols

-

4 Symbols

-

5 Symbols

-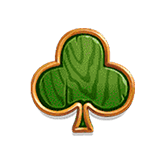 2 Symbols

-

3 Symbols

-

4 Symbols

-

5 Symbols

-
2 Symbols

-

3 Symbols

-

4 Symbols

-

5 Symbols

-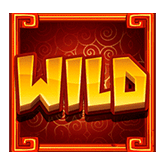 2 Symbols

-

3 Symbols

-

4 Symbols

-

5 Symbols

-
Formulate a Better Betting Strategy with These Tips
The many paylines and high hit rate of the Penguin City online slot make it less stressful for one's wallet. In other words, you could take a calculated risk and try betting bigger, as long as you don't go overboard. It's a good idea to divide your bankroll into 40 to 60 equal units, each worth one spin.
For example, if one sets aside €100 for a session, the spins can be worth €1.75 or €2.50. Smaller stakes are also fine; just make sure wins feel significant. Always have a realistic end goal and stop once you've reached the desired profit or spent the money you can afford to lose. If you get tired of jumping penguins or would like to try a riskier slot, our recommendations have you covered.
Penguin City: A Slot Made for Mobile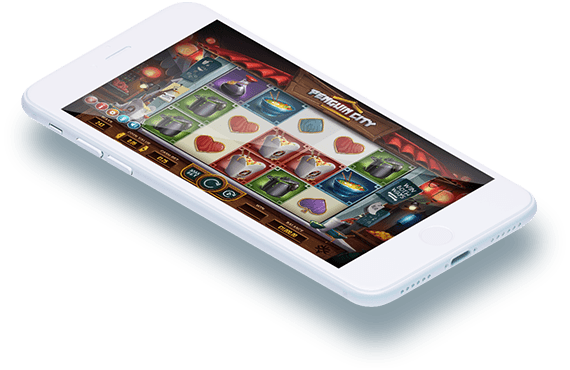 Flawless mobile optimization has always been a top priority for Yggdrasil. The Penguin City slot will deliver on all fronts when you decide to play on the go. All you need is a stable Internet connection and an Android/iOS phone or tablet in good condition.
The slot is built on an HTML5 platform, so your experience will be identical through any browser or casino app. You're not required to hold your device sideways to play the game.
The Conclusion: Are These Flightless Birds Worth Saving?
The Penguin City slot is humorous, looks great, and pays often. It might not be as feature-stacked as some other Yggdrasil releases, but we loved the few bells and whistles that made it onboard. The special bonus mode can bring in satisfying rewards that don't seem typical for this otherwise low-volatility release.
If you're new to gaming or averse to taking big gambles, we would gladly recommend giving Penguin City a shot. High-risk players might not be charmed by the flock of flightless fellows, but it's always possible to spice the game up with larger bets. Get ready for the grand escape with our demo, and don't forget to subsidize your first real-money sessions with a hefty promo from a trusted online casino.
Log in to add it in your favorites
Compare

Penguin City

to other

games