Max Verstappen Takes the Checkered Flag in the First Las Vegas Grand Prix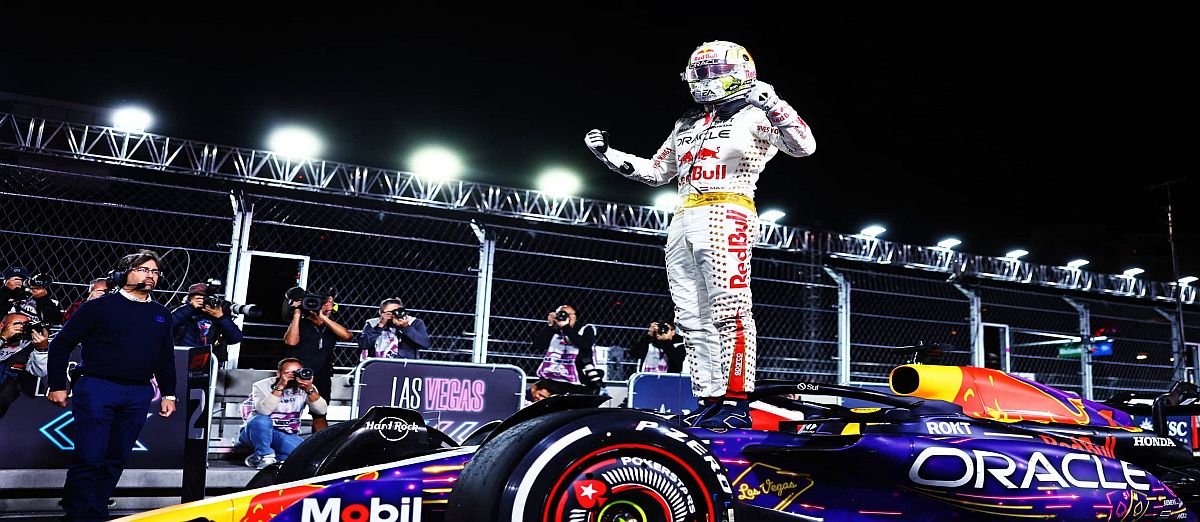 LISTEN TO THIS ARTICLE:
Max Verstappen came out on top on a day that chaos was the protagonist in the Formula 1 Las Vegas Grand Prix. A tireless Charles Leclerc was second and Sergio Pérez finished in third position.
A Chaotic Night in Las Vegas
Verstappen secured victory in a thrilling Las Vegas Grand Prix, outperforming his Ferrari rival Charles Leclerc and Red Bull teammate Pérez to cross the finish line first. The race was filled with incidents and Safety Car interventions, keeping the drivers on their toes.
Related:
Inaugural Las Vegas Grand Prix Runs This Saturday
Verstappen initially claimed the lead from Leclerc, who had secured the race's coveted pole position, but received a five-second time penalty for pushing his rival off the circuit. Despite losing positions during a pit stop to serve the penalty, Verstappen showcased his skill and determination, eventually rebounding to the lead.
Leclerc opted for a longer stint before changing tires, addressing graining concerns in the opening phase. However, the entrance of a safety car onto the track following a crash, allowed Verstappen and others to pit under caution.
As the race resumed, Leclerc led the pack, with Pérez, benefiting from an early stop due to a first-lap incident, closely behind. Despite his initial control, Leclerc faced pressure later in the race because of his tire strategy, setting the stage for a gripping battle in the latter part of the Grand Prix.
Verstappen, the oddsmakers' favorite going into the race, surged ahead, with Pérez following in his exhaust. It seemed that Leclerc was going to have to settle for third place before he proved his skills and overcame Pérez to capture the second-place spot.
The Race Is Over but Not Forgotten
The Las Vegas Grand Prix race is over, but not its drama. Two law firms are suing Formula 1 on behalf of at least 35,000 people.
The plaintiffs had purchased tickets for Thursday's practice race, which was canceled after Sainz's Ferrari was damaged. A manhole cover became dislodged, causing the damage and leading to a penalty against the Spanish driver.
What followed was an unexpected delay of almost six hours as maintenance crews checked all 30 manhole covers along the circuit, fixing any issues they discovered. That led to the second practice not starting until 2:30 a.m. Friday, which took place without any spectators. Race officials ordered the stands to be cleared as a necessary precautionary measure.
Officials attempted to appease race fans, offering $200 vouchers to those who had purchased a single-day ticket. However, no compensation was provided to those race attendees who had bought 3-day tickets. This led to the lawsuit and another black mark on what should have been a relatively uneventful debut for Formula 1 racing in Sin City.