Perfect Pairs Blackjack Review
Premier Live Casino Entertainment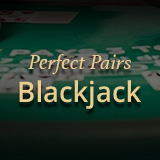 Log in to add it in your Favorites
Evolution Gaming's Blackjack tables are arguably the most popular live casino streams in the world. It's not uncommon to see more than a hundred of these broadcasts in the lobbies of top gambling sites. Their betting limits and themes are incredibly varied, but only some are as gripping as Perfect Pair Blackjack.
In this review, we'll explore how the extra bets and features enhance the classic game. We'll also lift the lid on the rules and payouts. If you want to play for real money, we've got an interesting strategy to enjoy trying your luck at any casino Blackjack Perfect Pairs game.
Why Perfect Pairs Blackjack?
Rules and Basics of Perfect Pairs Blackjack
It's only fitting that Evolution's bread-and-butter streams follow a standard Vegas Strip ruleset. We've visited quite a few sessions, and in all of them, the dealer uses an 8-deck shoe and must stand on hard and soft 17s. Doubling down is allowed after you receive your starting pair of cards.
When playing by Perfect Pairs Blackjack rules, you may split your hand anytime you're dealt two cards of equal value. You can hit splits as much as you want, except when you divide two Aces. In that case, only one additional card per hand is drawn. It's not possible to double down following a split.
If the house's face-up card is an Ace, you are offered the chance of placing an insurance bet, even if you have a natural. The dealer will then peek to see if their hidden card forms Blackjack. There's no 6- or 10-card Charlie rule in effect, which slightly lowers the RTP of these tables.
Game
Perfect Pair Blackjack
Developer
Dealer Stands
Stands on 17
More Side Bets
Perfect Pairs, Bet Behind
Perfect Pairs and Other Available Side Bet
There are plenty of interesting additions to Perfect Pair Blackjack online. Perfect Pairs is the most obvious one. The optional wager can be placed after you've taken a seat and are playing the main game. Form a mixed (same value, different color), colored (same color, different suit), or perfect (completely identical) pair with your first two cards, and you'll win one of three payouts.
However, there's another side bet that's called "21+3." For it to be considered a winner, your initial pair and the dealer's face-up card must form a poker combination such as straight, flush, suited trips, and so on. Due to its superior payout potential, this is actually the best bet to place.
Sometimes, it can be tough to play Perfect Pairs Blackjack. The reason these tables are so numerous is that the croupier can only interact with up to seven seated players. As a consequence, the low-limit streams are often full. As a consolation, Evolution Gaming has included the option to bet behind.
In a nutshell, you may choose any active participant and put money on whether they'll win against the dealer. There's no way to influence the way they play, but those on a streak will be highlighted with a badge. If you spot a perennial winner, do note that you can also bet on them while you're playing.
How to Play Blackjack Perfect Pairs
In live games, a croupier interacts and plays with customers in real time. Thus, a demo mode for these games doesn't exist. If you wish to try Perfect Pairs Blackjack online free, you'll need to find a reputable live online casino that offers a no-deposit bonus. Otherwise, you'll need to invest real cash. We have a few recommendations at the end of this review, so feel free to check them out later.
Once registered and ready to go, learning how to play Perfect Pairs Blackjack is not a hard task. Head to the Evolution live casino lobby and click on "Blackjack." Most of the tables you'll see are the version of the game we're discussing here. There's a lot to choose from, but you can filter streams according to your budget. Usually, the minimum bet one can place at a 7-seater table is €5, but some branded versions can have it at €3. The top betting limit for Perfect Pairs Blackjack can stretch to €15,000.
Choose something you like, take a seat at the table, and wait for the next round to start, just like in a land-based casino. Once it does, a large set of chips and a timer will appear in the center of the screen. Select the amount, put it in the area above your name, and you're good to go.
The croupier deals cards from right to left and waits until a player finishes their hand. If you're new and need more time to make a move, make sure to sit on the left side of the table.
Additional Buttons for a Better Experience
When playing Perfect Pairs Blackjack, some people find it fun to chat with the dealer while enjoying the game. For such interactions, use the leftmost button at the top-right corner, as it contains a chatlog. From this cluster of icons, you can shrink the screen for a better connection, adjust your volume, access additional options, and see more info about the game.
The two big buttons at the bottom-right are also quite useful. The left allows you to choose and play a second live game simultaneously while its neighbor opens the lobby without exiting the current stream.
Try Perfect Pair Blackjack for Real Money
If this piques your interest, you can play Blackjack Perfect Pairs at any of the reputable gambling platforms we have listed at CasinoReviews. We've carefully selected a range of casino sites that not only feature this captivating game but also showcase a vast array of Evolution titles and a diverse selection of blackjack versions from various providers.
Not only do these operators have great and varied bonuses, but they also adhere to the gaming regulations of their licensers. You can be sure to enjoy yourself knowing you're playing at a secure gambling site.
Sadly, there is no Perfect Pair Blackjack online free demo, as it is a live game. Once you are ready to start playing, just dive into our in-depth casino reviews to discover the one that resonates with your gaming preferences. Register today and seize your new player bonus for a thrilling gaming journey.
Casino
Bonus
Free Spins
Claim Bonus

Casumo

1

20

Free Spins

888 Casino

2

NA

PlayOJO

3

Up to

50

Free Spins

Mr Green

4

NA
*18+ T&Cs apply to each offer. Click "Get Bonus" for more information.
Perfect Pair Blackjack - Odds, Payouts, and RTP
The reason so many people play this variation of the game is due to the high profit potential and great Perfect Pair Blackjack odds. The house edge on the standard game is 0.72%, meaning that your chances of victory are almost as good as a coin toss. A winning hand pays 1:1, naturals — 3:2, and insurance — 2:1. We must note that the RTP is slightly lower than the 99.59% golden standard, mainly due to the use of an 8-deck shoe. Still, a deviation of 0.31% doesn't make a huge difference.
When it comes to side bets, things get a bit more tilted towards the house. Perfect Pairs has an RTP of 95.90%, while 21+3 stands at 96.30%. Sure, their top payouts are respectively 25:1 and 100:1, but they will cause you to lose more money over the long run. Our advice is to play the Perfect Pairs Blackjack side bets with smaller sums only when you're comfortably ahead. That way, you'll get the best chance of leaving the table as a winner.
| Covers | Payout |
| --- | --- |
| Blackjack | 3:2 |
| Winning Hand | 1:1 |
| Insurance | 2:1 |
| Perfect Pairs | 25:1 |
| Colored Pair | 6:1 |
Strategies and Tips for Perfect Pairs Blackjack Online
Keep in mind that there is no Perfect Pairs Blackjack free demo, you will have to learn the game on your feet while playing. This is not merely a game of luck. It masterfully combines elements of chance with strategic gameplay. Relying on impulsive decisions won't bring you any closer to achieving the desired RTP.
The digital realm is flooded with a plethora of blackjack systems and strategies, each purporting to be the ultimate guide. Yet, from our perspective, the wisest approach for newcomers is to commence with modest wagers. This allows you to familiarize yourself with the game's intricacies.
As you gain confidence and start registering wins, you might consider increasing your bets. However, prudence is key. Always ensure you're wagering amounts you're comfortable potentially losing. Embrace this strategy, fortify yourself with invaluable insights, and potentially sway the odds to your advantage.
Top Casinos for Blackjack and Other Live Games
Evolution Gaming's excellent lobby can be seen in many of Europe's top online casinos. This leading studio has a portfolio that contains Game Shows, poker, and baccarat, among others. Blackjack is rivaled by classic and exotic roulette streams. If you're interested, see our reviews for Auto-Roulette, Double Ball Roulette, Dual Play Roulette, and more.
In our opinion, 888casino is a great choice for novice and experienced players. This operator presents a great variety of live casino games from the most popular operators. The casino also offers a 100% deposit match deal up to $100 and even special live promos on the branded 888 tables. Mr Green, Casumo, and PlayOJO are other solid alternatives. For more exciting versions of blackjack, see our recommendations below.
Log in to add it in your favorites
Compare

Perfect Pair Blackjack

to other

games