French Roulette by NetEnt
Review of the Features and Free Demo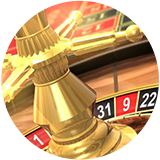 Log in to add it in your Favorites
NetEnt is one of those developers that you can always rely upon to create exceptional games, and it has done that with French Roulette. Released in December of 2014, the game brings all of the thrills of roulette to your screen, but makes it feel like you're engaging in it within a French casino. You'd better know your Manques from your Passes with this one, as it's got that entertaining French flair running through it. This roulette game is also great if you enjoy using a racetrack and getting hints on the hot and cold numbers of the moment.
Here, we're going to be taking a look at those features, as well as the overall setup of French Roulette. All of the game mechanics will be discussed, and you'll also have the opportunity to access the game in demo mode. Not only that, but we'll give you some recommendations on the best real money casinos to play French Roulette at.
RTP

Very Good

Features

Excellent

Gameplay

Excellent
Rules

Single zero

Called Bets

Demo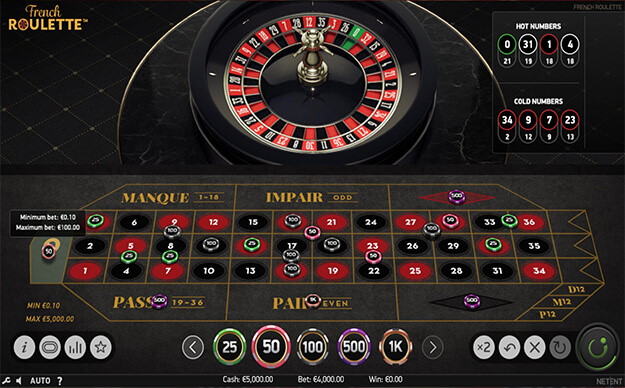 *18+ T&Cs apply. Click "Join Now" for more information.
Basic Rules of NetEnt French Roulette
Naturally, being a French Roulette game, this version of roulette follows French rules. Therefore, the wheel only has a single green zero on it, but the different bets on the table are written in French, rather than English.
Speaking of the bets, the game features both inside and outside bets, while call bets and special bets can also be found within. If you find yourself with a particular preference for placing specific wagers, you can save them as part of your favorite bets.
In addition to this, the game contains La Partage and En Prison rules, so you stand the chance of receiving something back should you have an even money bet, and the ball lands on the green zero.
Called Bets and Special Features of the Game
Whenever you access French Roulette by NetEnt, you'll see that there is the option of opening the racetrack or keeping it closed. The button for doing so is in the bottom-left corner. Choosing to open this up will display different bets to you, including Tiers, Orphelins, Voisins, Zero, and you can even select between two and eight neighbors for this kind of bet. This is what gives you access to the called bets.
When it comes to these call bets, these operate as one or more inside bets on a series of numbers as they appear on the actual roulette wheel itself. Keep in mind that some of these called bets also have a pre-determined minimum number of chips that you are required to place on that specific bet. Called bets are made in French Roulette by placing chips directly onto the open racetrack, and these exist in the form of:
Number and neighbors, which is a bet on five numbers (one number and the two at either side of it). The maximum number of neighbors, as mentioned above, is eight.
Jeu Zero, which is a bet on a series of seven numbers – 12, 35, 3, 26, 0, 32, and 15.
Tiers, allowing you to bet on a series of 12 numbers.
Orphelins, providing a bet on two series of eight numbers (one group of three and another of five).
Voisins, which sees you betting on a series of 17 numbers
Special bets can also be placed while accessing French Roulette, including Red and Black Splits, Orphelins Plein, Finale Plein, Finale Cheval, and Finale Cheval/Plein.
Developer
How to Play French Roulette
When you're ready to play French Roulette, there's a simple process to follow. Simply load the game up and place the bets that you'd like to wager. The various chip values can be seen at the bottom of the screen, and you can combine these to make higher single bets. A minimum wager per round of €0.10 must be placed, while you can go no higher than the maximum of €5,000 per round. After placing your bets, simply hit the green button in the bottom-right corner to set the bell of rolling around the roulette wheel.
You've also got a few customization features to benefit from, too. If you look in the bottom-left corner of the screen, you'll see a wrench. Clicking on this will give you controls for adjusting the volume of the dealer's voice, the background music, and the sound effects. These can all be muted as well. You can pick a specific soundtrack to listen to as an alternative, and you can also choose whether or not to see the intro movie whenever you load the game up. Quick spin and auto bet functions are available in this section, too.
The great part about NetEnt's games in general is that they utilize easy-to-follow setups, high-quality graphics, and enthralling gameplay. French Roulette manages to do exactly the same, with the wheel displayed at the top of the screen, with the open racetrack to its left. The table is below this and the chips at the very bottom for simplicity. Play French Roulette for Free
Now that you've seen all the options this game offers, why not try them in a free demo game? You can try placing different bets and test different strategies to make the most of the En Prison and La Partage rules. Once you're used to the game mechanics, you can try it for real money at some of our recommended casinos.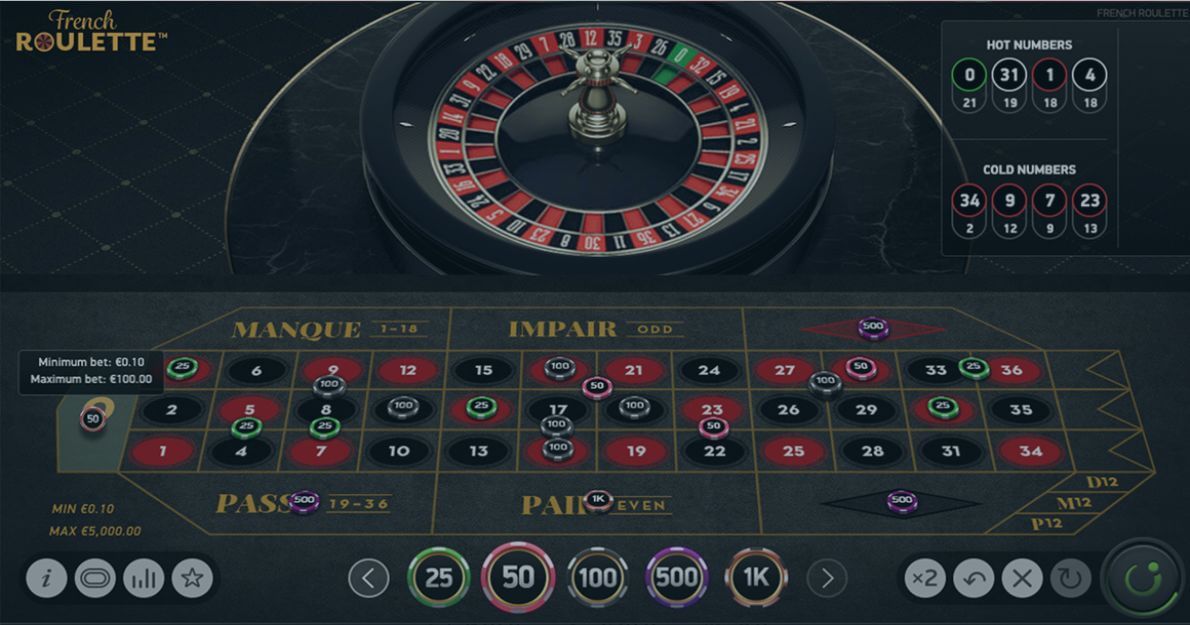 Do You Want to Play This Game for Real Money?
Genesis Casino
Not Accepted
1xBet
Not Accepted
888 Casino
Not Accepted
*18+ T&Cs apply to each offer.
NetEnt Casinos for Real-Money Play
French Roulette and various additional games from the NetEnt catalog can be found at a large number of online casinos. In our list of recommended NetEnt casinos, we've included platforms like NetBet, Mr Green, 888 Casino, and more trustworthy brands with a long history and respectable credentials that offer hundreds of games and many promotions to suit all types of players. You can read our thorough reviews of each one and use our comparison feature to choose the best one for you.
Casino
Bonus
Free Spins
Claim Bonus

Genesis Casino

1

NA

1xBet

2

150

Free Spins

888 Casino

3

NA

NetBet

4

10

Free Spins

FezBet

5

200

Free Spins
*18+ T&Cs apply to each offer.
RTP and Payouts of NetEnt French Roulette
The return to player rate attached to French Roulette from NetEnt is 97.30% as standard. Yet, the house edge can be reduced even more when it comes to the La Partage inclusion, standing at just 1.35% in this case.
Clicking on the 'i' button will allow you to see the different payouts within the game. A winning straight bet will provide a 35:1 payout, while a split comes next with a 17:1 reward. Three-line (also known as a Street) will provide a payout of 11:1. The remaining pay-outs decline down through corner, six-line, column, dozen, red/black, even/odd, and 1-18/19-36, with the last three of these paying out 1:1 rewards.
Bet Type
Covers
Description
How to Place
Payout
Straight Up

1

Number

A bet on a single number being the winning number.
Click on a number.
35:1
Split

2

Numbers

A bet on two numbers next to each other on the table.
Click between two numbers.
17:1
Street

3

Numbers

A bet on a row of three numbers (e.g. 1, 2, and 3).
Click on the bottom edge of the lowest number in a vertical row.
11:1
Corner

4

Numbers

A bet covering four numbers next to each other on the table.
Click at the corner of four numbers.
8:1
Column

12

Numbers

A bet covering an entire horizontal row of four numbers.
Place the chip on the box at the end of the column.
2:1
Dozen

12

Numbers

A bet on twelve numbers – either High, Middle, or Low.
N/A
N/A
1-18 (Low)

18

Numbers

A bet on the winning number being between 1 and 18.
Click on the area marked "Manque".
1:1
19-36 (High)

18

Numbers

A bet on the winning number being between 19 and 36.
Click on the area marked "Passe".
1:1
Red

18

Numbers

A bet on the winning number being red.
Click on the area marked with a red diamond.
1:1
Black

18

Numbers

A bet on the winning number being black.
Click on the area marked with a black diamond.
1:1
Even

18

Numbers

A bet on the winning number being even.
Click on the area marked with "Pair".
1:1
Odd

18

Numbers

A bet on the winning number being odd.
Click on the area marked with "Impair".
1:1
Tips for Playing Real Money French Roulette
French Roulette, in general, is a simple variation of the game for anyone to access, and therefore, it can be simple to incorporate one of several strategies into your gameplay. However, a few tips that you can consider when it comes to playing French roulette include the following:
Play for low stakes in general (especially if it's your first time), and maintain your composure
Become a bit more familiar with the French terminology used
Balance your outside and inside bets
Try to take advantage of the la partage rule
Incorporate a proper strategy that won't see you losing your balance in one go
Understand the payouts associated with the game
More About NetEnt and Its Games
The NetEnt brand is one of the biggest in the gaming industry, having been operational since the late 90s. It has since grown into the powerful entity that it is today, thanks to its use of unique features within games, top-quality graphics and exciting themes. Alongside this game of French Roulette, NetEnt also provides European Roulette, American Roulette, and a selection of live dealer variations, such as Auto Roulette Studio and VIP Roulette Live.
If you want to play some other games from NetEnt, then we always recommend that you check out some of the developer's slots. Starburst, for example, takes you into space and allows you to form wins from both sides of the interface, while Blood Suckers takes you into the world of vampires. We also recommend blackjack from NetEnt, which provides the same high-quality graphics as French Roulette, and gives you just as much of an entertaining time.
Log in to add it in your favorites
Compare

French Roulette

to other

games