American Roulette by NetEnt
Testing and Reviewing the Features and Gameplay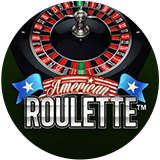 Log in to add it in your Favorites
American Roulette is often known as the game with two zeroes, which is basically due to the fact that the wheel itself has two zero pockets on it – the single one and the double one. Various software developers have created their own American Roulette games for the online casino world, although potentially none have done it quite as well as NetEnt has.
Then again, NetEnt is known for its superior software quality, which is why it didn't take much to motivate us to review this game. So, why not join us as we take a look at everything that it incorporates, from the graphics and gameplay through to the payouts and special features? And once you're fully informed on how it operates, you've also got the chance to have a go at it in free play mode, too.
RTP

Very Good

Features

Very Good

Gameplay

Excellent
Rules

Double zero

Called Bets

Demo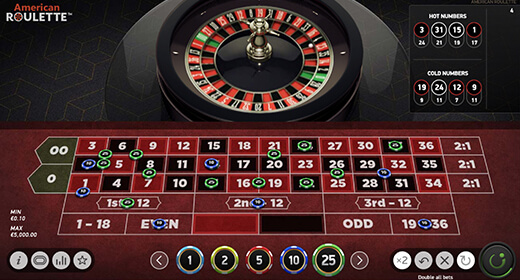 *18+ T&Cs apply. Click "Join Now" for more information.
Why American Roulette?
Amazing Graphics & Animations
American Roulette by NetEnt: What You'll See
American Roulette is frequently considered to be the harder variation of roulette to play, thanks to the fact that it has an extra position on the wheel in the form of the double zero. You'll get to see that in operation in the NetEnt version, too. It is for this reason that American Roulette also has a higher house edge. Yet, you could potentially forget all about the internal workings of the game once you see how visually stunning it is. As is common for NetEnt, the developer has made use of some exceptional graphics, animations and sounds to ensure that you have quite the enhanced gameplay experience.
Everything is present as would be expected, from the table running along the bottom of the screen to the wheel spinning at the top. Meanwhile, you'll also see the chips that you can place bets with, which are able to be selected running along the very bottom. Other different customization features can also be brought into action with the buttons on either side of the game screen, but we'll talk a little more about them shortly.
Special Betting Features to Enjoy
American Roulette doesn't only provide the standard betting options, such as the inside and outside options of 1-18, 19-36, red or black etc. It also has some special wagers that you can place, which is done by bringing the racetrack into operation. There's a button for this in the bottom-left corner of the screen, and from there you can select a Neighbors bet. Below the racetrack, you can choose how many neighbors you'd like to include from zero up to eight.
Something else that is very nice about this game is that you can see the Hot Numbers and Cold Numbers on display to the right of the roulette wheel. These are the numbers that have been the winning and losing ones the most, and you can utilize that information to place future bets if you so wish.
Furthermore, if you open up the Statistics section of the game with the relevant button from the bottom-left, you'll find extra information that you can use for making bets. This provides details of how often the winning number has been a red, black, odd, even or zero result. Some players will utilize this and others won't, but it's always great to find such options in an online roulette game.
Developer
Betting Possibilities in American Roulette by NetEnt
As noted, the various chips that you can use for betting in American Roulette can be found at the bottom of the game screen. They increase in value from the minimums of 0.10 and 0.50 up to maximums of 500 and 1,000. This makes American Roulette quite an appealing game for both newcomers and high rollers to participate in. The minimum bet per round that you must bring into play is 0.10, but you can wager up to a maximum of 5,000.
Should you wish to customize the game, you have a few options available to you, although this doesn't change anything visually. Instead, if you click on the wrench button in the bottom-left corner, you'll be able to change how loud the dealer's voice is, whether there's background music playing or not if you want sound effects in operation and how loud these are. You can also choose the soundtrack that you'd like to play, with five different pieces of music available to select from. NetEnt American Roulette Free Play Is Available Right Here
So, we've given you details of how this table game operates and what types of bets you're able to place. Why not try having a few goes yourself with demo money? We've got the free play version of American Roulette on hand for you to check out here. You can try all the gameplay settings, test the mechanics, and make use of the statistics to devise a betting strategy before you get started playing for real money.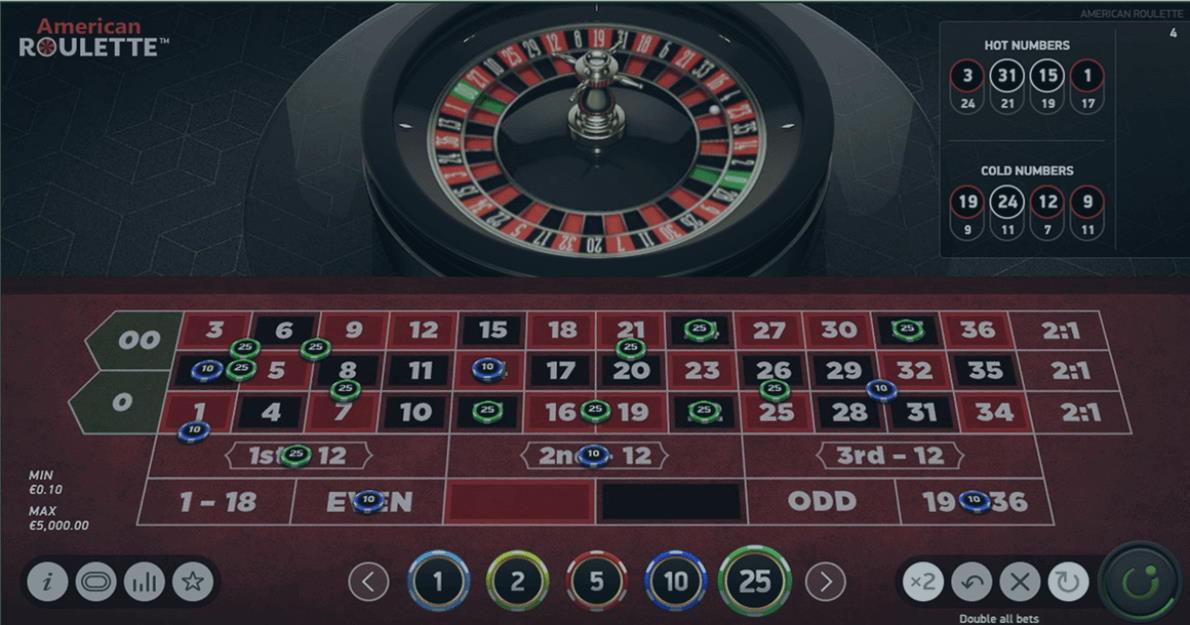 Do You Want to Play This Game for Real Money?
Cashiopeia
Not Accepted
Genesis Casino
Not Accepted
1xBet
Not Accepted
*18+ T&Cs apply to each offer.
Where to Play American Roulette – NetEnt Casino Recommendations
American-style roulette appeals to risk-taking players due to its higher house edge and volatility, which is another reason why you need to find a credible casino that has its RNG tested and guarantees fair play. The NetEnt casinos we've featured here are all licensed, giving you peace of mind, as well as bonuses and promotions to let you start playing roulette and other games with real money and bonus funds.
Casino
Bonus
Free Spins
Claim Bonus

Cashiopeia

1

NA

Genesis Casino

2

NA

1xBet

3

150

Free Spins

888 Casino

4

NA

Grosvenor

5

NA
*18+ T&Cs apply to each offer.
A Higher House Edge, but What Payouts Are Available?
It's common knowledge that American Roulette will always have a higher house edge, because of the added double zero on the wheel. This is visible in this game from NetEnt, which comes with an RTP rate of 94.74%. Yet, as long as you place smart bets and familiarize yourself with the game, you should still get plenty of gameplay out of a decent balance.
The paytable in American Roulette is quite standard, though. So, if you win a Straight number bet, you'll receive the highest reward of a 35:1 pay-out. This is followed on by a Split, which pays out 17:1 and a Three Line (Street), providing rewards of 11:1. You'll then get Corner bets at 8:1 and Top Line winning bets paying out 6:1. The pay-outs reduce to the lowest reward of 1:1 for Even/Odd, Red/Black and 1-18/19-36 bets.
Bet Type
Covers
Description
How to Place
Payout
Straight Up

1

Number

A bet on a single number being the winning number.
Click on a number.
35:1
Split

2

Numbers

A bet on two numbers next to each other on the table.
Click between two numbers.
17:1
Street

3

Numbers

A bet on a row of three numbers (e.g. 1, 2, and 3).
Click on the bottom edge of the lowest number in a vertical row.
11:1
Corner

4

Numbers

A bet covering four numbers next to each other on the table.
Click at the corner of four numbers.
8:1
Column

12

Numbers

A bet covering an entire horizontal row of four numbers.
Click on one of the areas marked "2 to 1".
2:1
Dozen

12

Numbers

A bet on twelve numbers – either High, Middle, or Low.
N/A
N/A
1-18 (Low)

18

Numbers

A bet on the winning number being between 1 and 18.
Click on the area marked "1-18".
1:1
19-36 (High)

18

Numbers

A bet on the winning number being between 19 and 36.
Click on the area marked "19-36".
1:1
Red

18

Numbers

A bet on the winning number being red.
Click on the red rectangle.
1:1
Black

18

Numbers

A bet on the winning number being black.
Click on the black rectangle.
1:1
Even

18

Numbers

A bet on the winning number being even.
Click on the area marked with "EVEN".
1:1
Odd

18

Numbers

A bet on the winning number being odd.
Click on the area marked with "ODD".
1:1
Try a New Strategy with American Roulette from NetEnt
Because American Roulette has a higher house edge than many other forms of roulette, it's often advisable to not going into placing bets with all guns blazing. This is especially true if you're a newcomer to the game. Stay smart and place smaller bets, get used to how the game works and then potentially increase your wagers when you feel comfortable doing so.
While some people will strongly advise against playing American Roulette, especially if European Roulette is available as an alternative, there is still fun to be had with the game. It's often better to put a focus on outside bets when accessing American Roulette, though. Returns on these bets are usually relatively low, but then again, so is the potential for losing chips at a quicker pace because of this. It's one of the safer strategies to utilize, providing you with a longer period of gameplay.
See If You Have the American Flair for Things
NetEnt is known far and wide as being one of the gambling world's greatest software developers. This is because it has such an impressive suite of games and they all feature wonderful, high-quality graphics and gameplay. Should you want to check out an alternative roulette option from this developer, then we recommend European Roulette. You could also look into playing one or two of the developer's slot games, such as Gonzo's Quest or Starburst.
A huge number of online casinos incorporate NetEnt's games into their lobbies, and we can recommend a few of them, should you wish to play them. Why not check out PlayOJO, or potentially you'll want to join NetBet instead. You can also read up on other roulette versions by different providers and use our compare option to find the best game for you.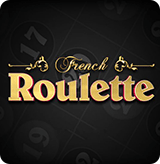 Log in to add it in your favorites
Compare

American Roulette

to other

games