Bally's Launch First Land-Based Casino in Chicago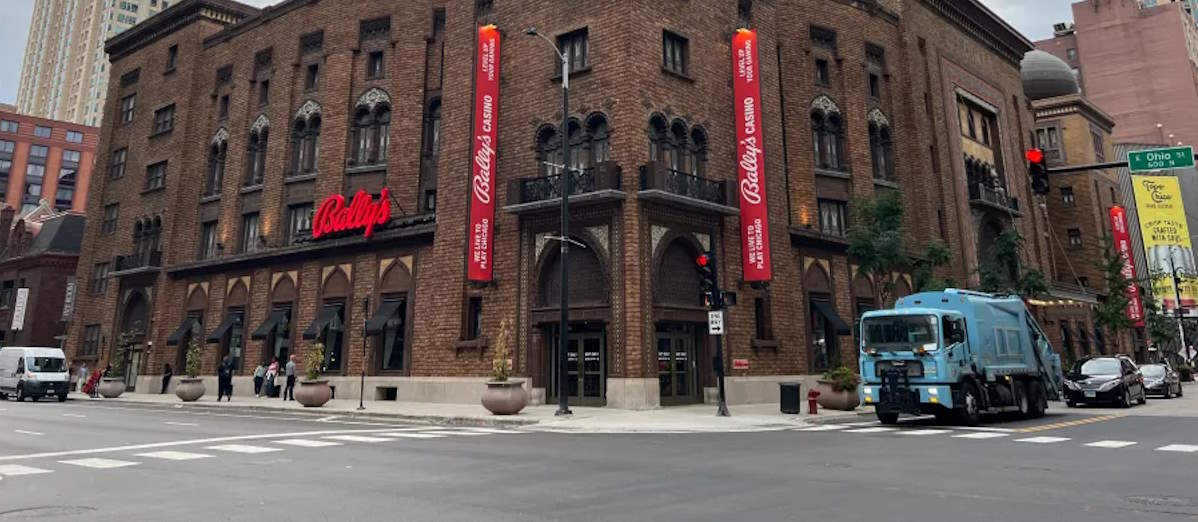 LISTEN TO THIS ARTICLE:
The first legal casino in Chicago has opened its doors to eager gamblers and tourists, ushering in a new era of entertainment and economic growth for the city.
Following years of planning, extensive renovations, and rigorous monitored practice sessions, Bally's Chicago received the green light from the Illinois Gaming Board on Friday to finally debut the city's highly anticipated first casino.
Ballly's Welcome First Guests
Located at the former Medinah Temple in the River North area just north of the Chicago Loop, Bally's Casino welcomed its first guests on Saturday at 8:00 a.m.
Before the official opening, a throng of casually dressed gamblers had already formed queues outside the venue, piquing the interest of passersby, including dog walkers on the sidewalk.
Medinah Temple will be a temporary location for Bally's as the operator intends to use the venue for three years while it completes the building of its permanent $1.7 billion casino at the location of the former Chicago Tribune printing plant in River West.
Related: Chicago Casino Proposals Down to Three Remaining Contenders
According to the operator, the temporary casino features 56 tables and nearly 800 slot machines. Most of the slot machines can be found on the first floor, with a spacious bar and a cozy café.
The second floor hosts table games and additional slot machines, accompanied by two restaurants and the VIP/high roller area on the third floor.
Long Time Coming
The casino launch comes more than 30 years after the idea was first proposed by former Mayor Richard M. Daley. He initially suggested that the city have a casino to supplement public funds as far back as 1992. However, it wasn't until Mayor Lori Lightfoot's administration in 2019 that a solid plan with state legislators was finally agreed upon, selecting Bally's project over three other competing proposals.
Before opening to the public, Bally's Casino passed two days of practice gaming sessions on Wednesday and Thursday, supervised by the regulatory staff and an external auditing firm. According to the company, the proceeds generated from the practice sessions will be donated to local Chicago charities during a ribbon-cutting ceremony scheduled for later this month.
Additionally, Bally's will pay over $135 million in upfront fees to the Illinois Gaming Board within 30 days, which will be directed toward financing infrastructure projects throughout the state.
City officials have high hopes that the temporary casino will yield as much as $50 million in tax revenue, which is earmarked to fund the pensions of firefighters and police.