Casino Ajax
A Blend of Gaming and Loyalty Perks in Ontario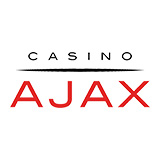 Log in to add it in your Favorites
Casino Ajax, located in the heart of Ontario, stands as a beacon for gaming enthusiasts across Canada. Upon entering, visitors are greeted with a vast array of top-notch gaming machines, each promising a unique experience. Whether you're a fan of classic slots or looking to try the newest electronic games, Casino Ajax has something to cater to every preference. The on-site restaurant is a culinary gem, renowned not just in the local community but also among visitors from afar.
For those who frequent the casino, the loyalty rewards program is an added bonus. As players immerse themselves in the games, they also have the opportunity to earn rewards, enhancing their overall gaming experience.

Address:

50 Alexander's Crossing, Ajax, L1Z 2E6, ON Canada

Opening Hours:

24h

Minimum Age:

19

Website:

casinoajax.com

Phone Number:

+905 619 2690

Email:

[email protected]

Amenities:

Rating:
Gaming Machines and Table Games at Casino Ajax
As in most other landbased casinos, the bulk of the gaming action at Casino Ajax lies in its fantastic slots. The world's most respected providers deliver these games, and there is something for every taste. Guests should look out for the linked slots and jackpot games, which often offer life-changing prizes.
In addition to slots, there are also plenty of electronic table games, which can seat anywhere from 3 up to 8 players at a time. The tables offer games such as Roulette, Baccarat, Blackjack and Sic Bo. There are 800 gaming machines and electronic tables in Casino Ajax, meaning players will never have to wait for a space to free up.
Casino Ajax – Bonuses and Rewards Program
Casino Ajax is part of the Great Canadian Rewards Program, which includes 12 destinations in Ontario and 25 locations across the whole of Canada. It is highly worth signing up for the program, as frequent players can earn reward points and comp dollars through their gaming, which can then be used for free play and discounts in participating amenities. The latter includes discounts on rates in hotels, restaurants and invitations to exclusive tournaments and events.
Affordable and Delicious Dining
Getaway, the restaurant, is open every day from 10 AM to 11 PM. It has a breakfast menu and an all-day breakfast menu, as well as mains, burgers, pastas, side dishes and desserts. Some of the top items on the menu include soup of the day, an 8-ounce Sirloin steak, and the "World's Greatest Chocolate Cake", a four-layer cake with dark chocolate shavings. Everything on the menu is affordable and known to be delicious.

Log in to add it in your favorites