Review of Premier Blackjack
Multihand, High Streak and Hi-Lo Games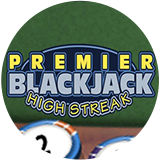 Log in to add it in your Favorites
Blackjack has long been one of the world's most popular card games, and the online gaming experts at Microgaming are always making sure we have new versions to keep us entertained when the rhythm of a basic game of 21 becomes somewhat monotonous. Their Premier Blackjack series offers four different versions, known as Multihand Blackjack, Multihand Bonus Blackjack, High Streak Blackjack, and Hi Lo Blackjack.
It is a sleek, professional-looking set-up that lets you sample a classy casino atmosphere at home with the fun twist of an added side bet or a Multihand option. The betting limits are highly flexible, too. In this review, we will be looking into how it's played and what features it includes. You will then be able to play a Microgaming Premier Blackjack session with real money or just for fun in demo mode if you prefer.
RTP

Very Good

Features

Excellent

Gameplay

Very Good
Rules

European Blackjack

Side Bets

Demo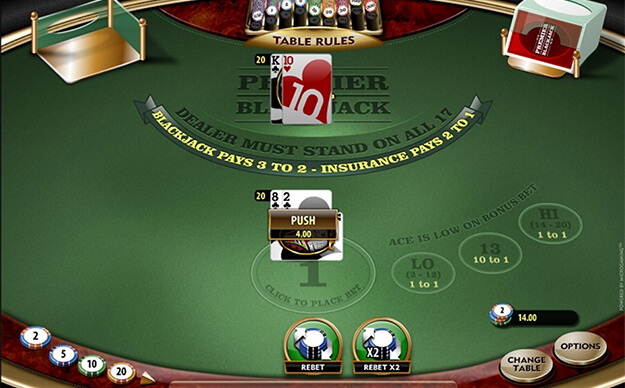 A Look at the Basic Rules
Standard European blackjack rules apply to this game. Cards are dealt from two packs in a double-deck shoe, and the dealer has to stand on all 17. Blackjack pays out at 3:2 and insurance at 2:1. Blackjack is the strongest hand and automatically stands.
The Premier Multihand Blackjack and Premier Multihand Bonus variants let you wager on up to five hands at any one time. The High Streak version has an up to five-streak side bet, and Blackjack Premier Hi-Lo has a bonus Hi-Lo bet.
Developer
More Side Bets
Streak, Hi-Lo
Splitting is allowed on hands that have two cards of the same denomination, and re-splitting is not allowed. Hands formed with an ace and a 10-value card after splitting aces don't count as blackjack. Doubling down is also possible after you get your first couple of cards, although you only get given one more card after doing this.
Simple but Varied Gameplay
This is a very simple game to play, no matter which of the four variants you choose. To get started, you need to choose the size of chip and add it to the betting area. For the games with bonus bets, the area for placing your chips in is clearly marked.
The minimum bet starts off at $5 on each hand and rises to a maximum of $200. Each of the bonus bets has the minimum and maximum levels clearly marked. Your options to hit, stand, or split are all clearly marked, so it is easy to choose the right one even in the heat of the moment.
As usual, with Microgaming titles, you can customize the gaming experience by changing the look of the cards, muting the sound, or altering the speed of the action, etc. You can easily switch between tables to try each of these four Microgaming Premier Blackjack versions whenever you want to.
Premier Blackjack Side Bets and Special Features
With Premier Multihand Bonus Blackjack, you can place a stake on the bonus bet. This only pays out if you get a certain combination in your first 2 cards. The Premier Blackjack Hi Lo version adds the option of taking on a side bet on your first two cards, giving you the option of choosing Hi, Lo, or 13.
The Premier High Streak Blackjack game has a side bet that sees your winnings increase the more wins that you string together, up to a maximum 5th streak payout.
Premier Blackjack is available in Regular and Expert mode. The expert mode offers a strategy chart that you can change to your preferences and an autoplay option.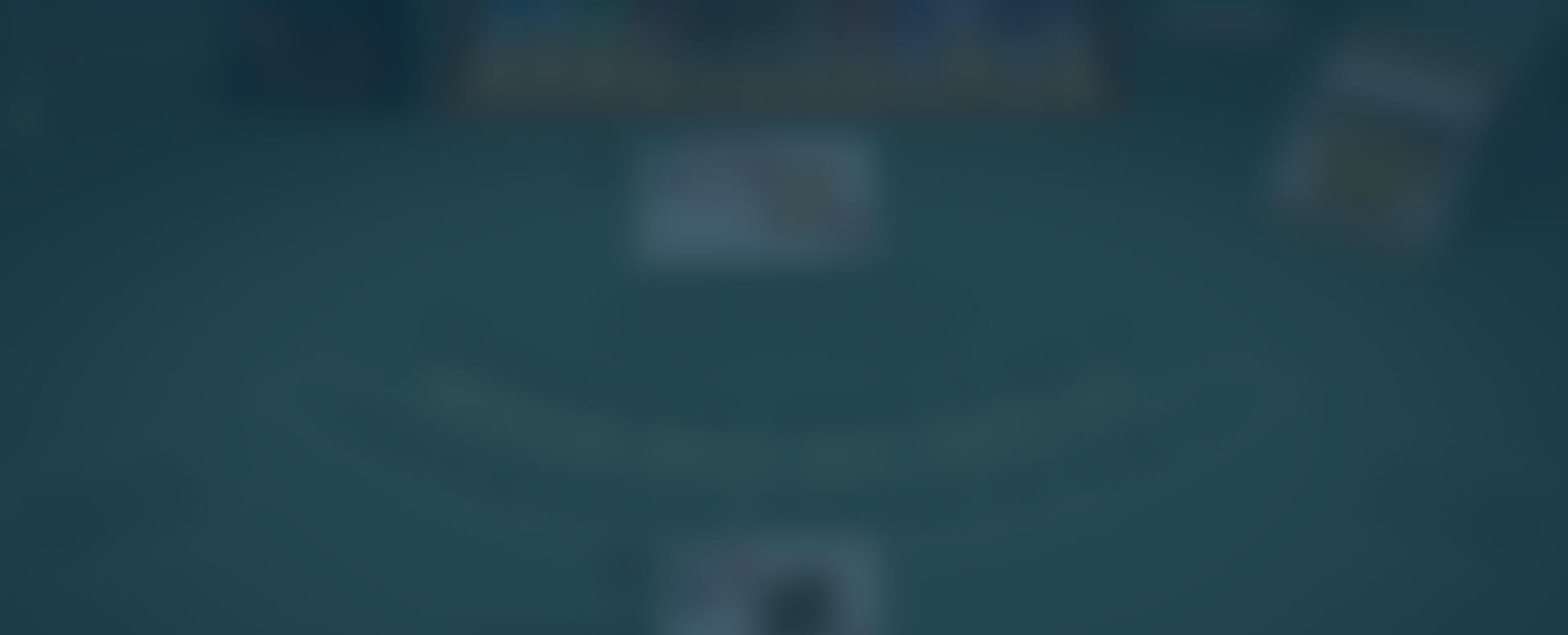 Give the Demo Game a Try
Now that you have seen all about Microgaming Premier Blackjack, you might be keen to give the free demo version a try before deciding whether you use real cash on it. This is a game that may take some time getting used, especially if you haven't played a lot of online blackjack games. To see how you can switch between tables and how to use all the options, just give the demo below a try.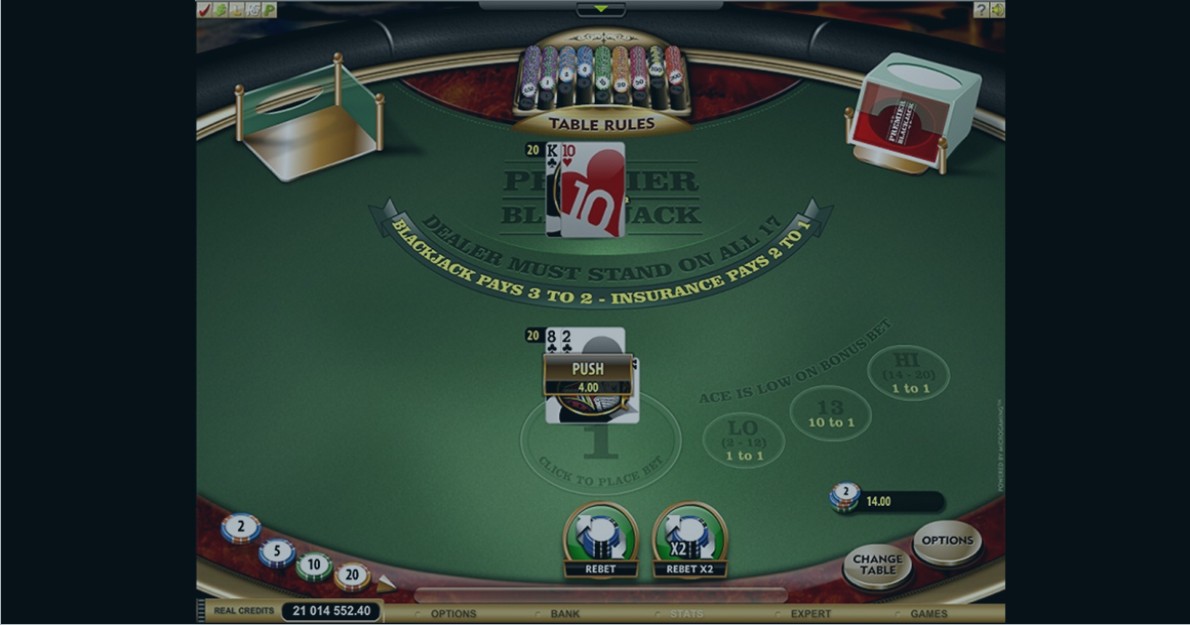 Do You Want to Play This Game for Real Money?
Cashiopeia
Not Accepted
Wazamba
Not Accepted
22Bet
Not Accepted
*18+ T&Cs apply to each offer.
Play Premier Blackjack for Real Money
The style of play that Premier Blackjack offers is dynamic, with plenty of possibilities for customizing and strategizing, and you can take the excitement up a notch by switching to real-money play. On our website, we've reviewed a number of licensed and regulated Microgaming casinos that accept players from around the world and offer promo deals for all types of players. So, check out our casino reviews, compare their offerings, and start playing.
Casino
Bonus
Free Spins
Claim Bonus

Cashiopeia

1

NA

Wazamba

2

200

Free Spins

22Bet

3

NA

PlayAmo

4

100

Free Spins

Cookie Casino

5

120

Free Spins
*18+ T&Cs apply to each offer. Click "Get Bonus" for more information.
The Details of the Premier Blackjack RTP and Payouts
A high RTP of 99.59% means that you can expect to get winning hands regularly. This low house edge means that you should be able to keep on playing for longer, even with a limited bankroll. Choosing the side bets or playing with several simultaneous hands increases the fun level but could lead to you working through your funds more quickly.
The insurance option ensures that you are protected in the event of the dealer getting a blackjack hand. This pays out at a fairly standard rate of 2 to 1. If you get blackjack on your first two cards, this pays at 3 to 2. The rest of the payout details are easy to find in the help section.
With the Premier Multihand Bonus Blackjack game, the side bet pays as follows.
The highest payout is for a Jack and Ace of Spades, which rewards you with 50-1.
A Jack together with an Ace of Diamonds, Clubs, or Hearts the payout is 25-1.
Any 2 cards of the same suit awards a 5-2 prize.
| Covers | Payout |
| --- | --- |
| Blackjack | 3:2 |
| Winning Hand | 1:1 |
| Insurance | 2:1 |
Playing for Real Money Strategy
If you want to play it safe, then you should stick to the basic game without any side bets, playing with just a single hand at a time on the minimum stake. This will give you the best chance of keeping your bankroll intact for longer, although it will reduce the chances of big wins too.
When you want the maximum excitement levels, you can opt for multiple hands, bigger stakes, and plenty of side bets. This will increase the volatility levels greatly. Switching between the different variants will also keep the action fresh for you for longer.
Switch Things up with Premier Blackjack
We highly recommend Premier Blackjack for the sheer diversity it offers. This is just one of the great games that are supplied by the popular Microgaming developer. As well as a variety of blackjack and roulette titles, they also provide one of the most exciting selections of online slots games for you to choose from too. Why not check out the likes of their Multi-Wheel Roulette and Jurassic Park slot when you are looking for something different? We also have a number of blackjack games reviews, so look up what other casino software developers are up to with their blackjack releases.
Log in to add it in your favorites
Compare

Premier Blackjack

to other

games